The Biomedical Nano-Engineering (BNE) Laboratory led by Dr. Stefan Wilhelm has broad interest in engineering colloidal nanomaterials for diagnosis and treatment of diseases, including cancer. Our areas of expertise include the design and synthesis of organic and inorganic nanomaterials with defined physicochemical properties (e.g., size, shape, surface chemistry, optical/magnetic features).
Our group studies interactions between nanomaterials and biological systems from a whole organ/tissue perspective down to the cellular and bio-molecular level. This research will provide a foundation for the rational engineering of nanomaterials and nanomedicines with the ultimate goal to design diagnostic and therapeutic nanomedicines that are safer and more effective.
Research Areas
Nanotechnology-biology ("nano-bio") interactions
Using novel bioanalytical tools, we study nanoscale and nano-bio interactions at the single-particle and single-cell levels.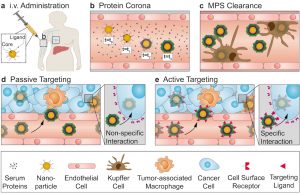 Nanoparticle surface engineering and nanotoxicity
Using innovative nanoparticle surface engineering strategies, we study nanoparticle pharmacokinetics, biodistribution, and adverse effects.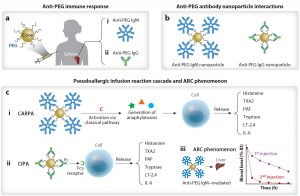 Cancer nanomedicine
Understanding nanoparticle interactions with the tumor microenvironment for safer and more effective cancer drug delivery.

Other research interests include:
Immunoengineering and immunomodulation
Three-dimensional optical imaging
Research Environment
Our laboratory is located in the state-of-the-art biomedical research facility Gallogly Hall (opened in Fall 2019). We are an associate member of  the NCI-designated Stephenson Cancer Center with access to unique research facilities and collaborators at the University of Oklahoma Health Sciences Center campus.

Laboratory Instrumentation and Equipment
Agilent Cary 5000 UV-Vis-NIR Spectrophotometer
Azur 600 UV-Vis-NIR Imaging System
Beckman Coulter Optima MAX XP Ultracentrifuge
BioTek Synergy Neo2 Multi-Mode Plate Reader
Branson 3800 Ultrasonic Cleaner
Büchi Rotavap R-100
Chemglass Schlenk Line
Cytek Nothern Lights Flow Cytometer
DeNovix CellDrop BF Cell Counter and D11+ Spectrophotometer
Eppendorf 5427R and 5910R Centrifuges
Eppendorf Galaxy 170 S  and CellXpert Cell Incubators
Freezers (-20°C) and Fridges (4°C)
Harrick Basic Plasma Cleaner
Horiba PTI Quanta Master 8000 Fluorometer
Hoshizaki Ice Maker
Kewaunee Scientific Corporation Fume Hoods
Keyence BZ-X800 Automated Fluorescence Microscope
Labconco Logic Plus Biological Safety Cabinet and FreeZone Freeze Dryer
Malven ZetaSizer Nano ZS
Mettler Toledo S220 pH Meter
MVE Cryosystem 6000 Cell Storage
Nova Automated Water Bath
Olympus CKX53 Optical Microscope
PHCBI Minus 80°C Freezer
Purist Pro UV Ultrapure Water System
Repligen KrosFlo KR2i Tangential Flow Filtration (TFF)
Sartorius Analytical and Precision Balances
Steris AMSCO 250 LS Autoclaves
Thermo Heraeus Multifuge X3R and Fresco 21 Centrifuges
Wyatt DynaPro Plate Reader III
Wyatt FFF-MALS/DLS
Research Collaborators
Prof. Adam Asch (MD, Stephenson Cancer Center, Department of Hematology/Oncology)
Prof. Resham Bhattacharya (PhD, Oklahoma Health Sciences Center, Department of Obsterics and Gynecology) 
Prof. Paul DeAngelis (PhD, Oklahoma Health Sciences Center, Department of Biochemistry & Molecular Biology)
Prof. William Hildebrand (PhD, Oklahoma Health Sciences Center, Department of Microbiology & Immunology)
Prof. Priyabrata Mukherjee (PhD, Oklahoma Health Sciences Center, Department of Pathology)
Prof. Wajeeha Razaq (MD, Stephenson Cancer Center, Department of Hematology/Oncology – Breast Cancer)
Prof. Takemi Tanaka (PhD, Oklahoma Health Sciences Center, Department of Pathology – Breast Cancer)
Prof. Yan Daniel Zhao (PhD, Oklahoma Health Sciences Center, Department of Biostatistics and Epidemiology) 
Funding Sources
Our research is supported by the following agencies: