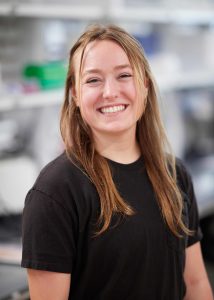 Contact: emmy.francek@ou.edu
LAB POSITION
Accelerated MS/BS Student, January 2019
BIOGRAPHY
Undergraduate Institution
Stephenson School of Biomedical Engineering
The University of Oklahoma, Norman
AWARDS & HONORS
2022: OU Honors College Undergraduate Research Day Silver Medal in Biomedical Engineering
2022: OU Letzeiser Honor List
2022: OU Campus Life Award
2021: University of Oklahoma Gallogly College of Engineering Outstanding Senior
2021: Undergraduate Research Opportunities Program Fellowship
2021: OU Honors Research Assistant Fellowship
2021: Tau Beta Pi Scholarship Recipient
2021: University of Oklahoma Board of Regents' Award for Outstanding Junior
2020: SBME Outstanding Sophomore, Norman, OK
PUBLICATIONS
2022
NANOPARTICLE SURFACE ENGINEERING WITH HEPAROSAN POLYSACCHARIDE REDUCES SERUM PROTEIN ADSORPTION AND ENHANCES CELLULAR UPTAKE
W. Yang, L. Wang, M. Fang, V. Sheth, Y. Zhang, A. M. Holden, N. D. Donahue, D. E. Green, A. N. Frickenstein, E. M. Mettenbrink, T. A. Schwemley, E. R. Francek, M. Haddad, Md N. Hossen, S. Mukherjee, S. Wu, P. L. DeAngelis, S. Wilhelm, "Nanoparticle surface engineering with heparosan polysaccharide reduces serum protein adsorption and enhances cellular uptake"
Nano Letters, 2022, published online.
DOI: 10.1021/acs.nanolett.2c00349 | PDF (5.6 MB)
QUANTIFYING CHEMICAL COMPOSITION AND REACTION KINETICS OF INDIVIDUAL COLLOIDALLY DISPERSED NANOPARTICLES
N.D. Donahue, S. Kanapilly, C. Stephan, M. Caleb Marlin, E.R. Francek, M. Haddad, J. Guthridge, S. Wilhelm "Quantifying chemical composition and reaction kinetics of individual colloidally dispersed nanoparticles."
Nano Letters, 2022, 22, 1, 294–301.
DOI: 10.1021/acs.nanolett.1c03752 | PDF (4.2 MB)
2021
GOLD NANOPARTICLES INHIBIT ACTIVATION OF CANCER-ASSOCIATED FIBROBLASTS BY DISRUPTING COMMUNICATION FROM TUMOR AND MICROENVIRONMENTAL CELLS
Y. Zhang, C.K. Elechalawar, M.N. Hossen, E.R. Francek, A. Dey, S. Wilhelm, R. Bhattacharya, P. Mukherjee, "Gold nanoparticles inhibit activation of cancer-associated fibroblasts by disrupting communication from tumor and microenvironmental cells."
Bioactive Materials, 2021, 6, 326-332.
DOI:10.1016/j.bioactmat.2020.08.009  | PDF (0.6 MB)
2020
ASSESSING NANOPARTICLE COLLOIDAL STABILITY WITH SINGLE-PARTICLE INDUCTIVELY COUPLED PLASMA MASS SPECTROMETRY (SP-ICP-MS)
N. D. Donahue, E. R. Francek, E. Kiyotake, E. E. Thomas, W. Yang, L. Wang, M. S. Detamore, S. Wilhelm, "Assessing nanoparticle colloidal stability with Single-Particle Inductively Coupled Plasma Mass Spectrometry (SP-ICP-MS)"
Analytical and Bioanalytical Chemistry, 2020, 412, 5205-5216.
Highlighted on journal cover page (Analytical and Bioanalytical Chemistry; Volume: 412; Issue: 22; September, 2020)
DOI: 10.1007/s00216-020-02783-6 | PDF (2.1 MB)
EXPLORING MALEIMIDE-BASED NANOPARTICLE SURFACE ENGINEERING TO CONTROL CELLULAR INTERACTIONS
C. Lee*, N.D. Donahue*, A.S. Mao, A. Karim, M. Komarneni, E.E. Thomas, E.R. Francek, W. Yang, S. Wilhelm, "Exploring maleimide-based nanoparticle surface engineering to control cellular interactions"
ACS Applied Nano Materials, 2020, accepted.